The world is all abuzz about the upcoming royal wedding of Prince Harry and Meghan Markle, which takes place on May 19th. Many brides-to-be will be watching the wedding, hoping to perhaps borrow some of the royal wedding elements to use in their own ceremonies. One place where it would be easy to replicate the style and look of the royal wedding is in the invitations.
Did you see how stunning these invitations are?
As you might remember, Markle had a previous gig as a calligrapher and even worked at Paper Source in her early years. She has impeccable penmanship and it makes sense her invitations would also be beautifully written in calligraphy.
Like any bride-to-be, she probably didn't have a lot of time to handwrite these herself. So if you want a stunning invitation without all the hassle, we have several beautiful wedding invitations that can get you the royal look without a royal price tag. Create your perfect ever after and get inspiration from our 2019 Wedding Look Book!
Our Beaded Border invitation is very popular with our brides! The embossed beaded border perfectly frames your event details and the script lettering and flourish adds a little romance. You can easily customize with gold ink and two-color thermography.
While you might not have your own crest like Prince Harry does, you can get a similar look with this Vintage Crest invitation. You can customize the crest with your two initials inside. Printed on our luxe grey paper which has a luxurious textured finish. Looks elegant with the slate ink color. You can also select letterpress printing for a more textured effect.
Since the royal wedding invitations featured gold ink, we picked out the Gold Foil Stamped Topiary invitation for its shine. The dove gray ink and gold foil look stunning together. The floral design is romantic and the gold foil element adds a touch of luxury. If gold isn't your style, you can also choose from a silver or rose gold foil.
Also heavy on the gold foil is this ornate Baroque invitation. The foil border can be customized to be all foil, foil stamped with digital printing, or foil stamped with thermography printing. Your choice of gold, silver or rose gold foil.
Perhaps the most romantic invitation of them all is the Love Letter invitation! Can be letterpress or digitally printed on a blush card with a beautiful calligraphy font.
And if you're looking for something more modern, you can't go wrong with this Contemporary Wedding Invitation. Can be printed with Thermography or Letterpress for a more elegant feel.

A new feature we have for our wedding invitations is adding gilded or painted edges. Using a technique used by master bookbinders, you can accent your invitation with gold, silver, rose gold, slate, black or night edges on our double thick paper.
Now if you're totally set on a DIY wedding, we have lots of ideas and inspiration to help you create your own invitations. One place you can start exploring is in color. Start by picking a color palette from our Paper Bar, where you can easily mix and match our paper and envelopes.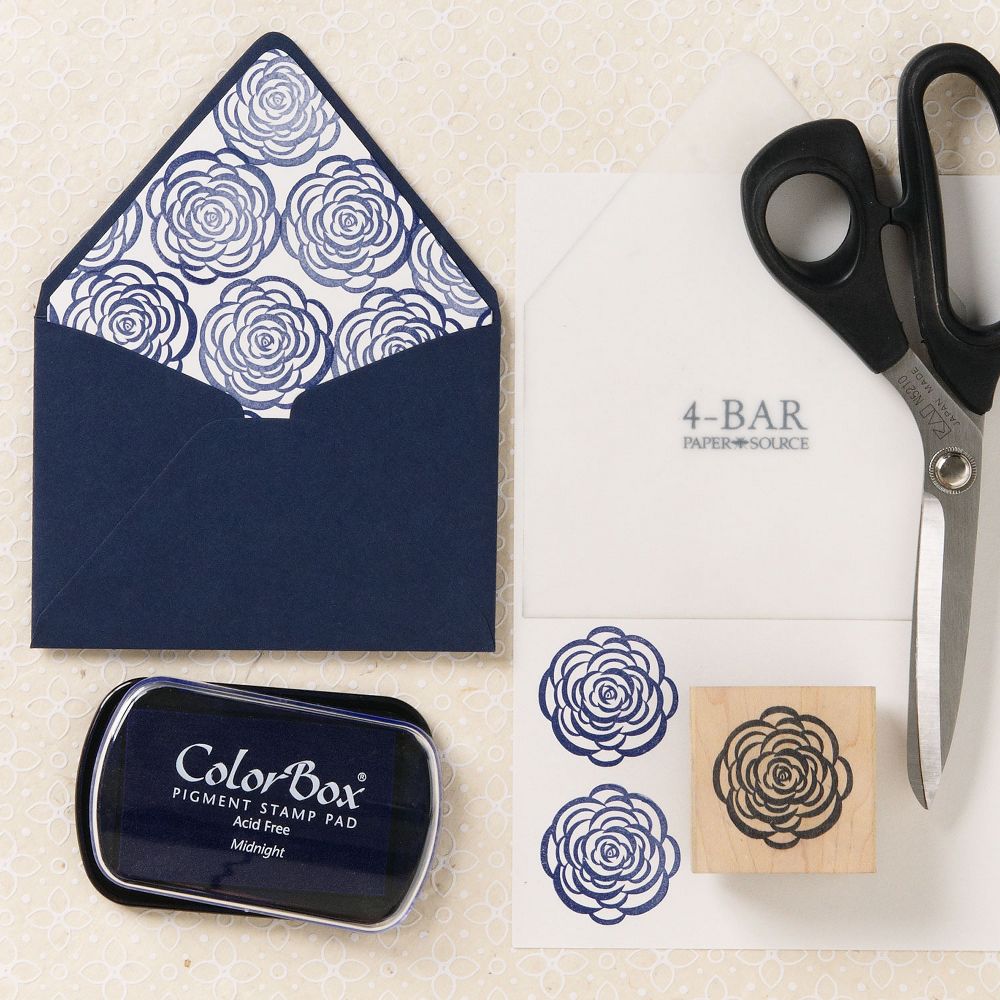 Here are some resources to help you get ready for your big day:
Colorscope: to help you choose your wedding color/theme
Don't forget the envelope liners! We have an Envelope Liner Template Kit that guides you on creating liners for 7 different sizes of envelopes. Choose a pretty pattern from one of our Handmade Papers, or create your own liner design with rubber stamps.
We also have print at home templates you can easily use. Just buy luxe paper and complementing envelopes from our Paper Bar and you'll have first-class invitations at a reasonable price.
In a previous blog, we also shared some tips and helpful products that can help you with your hand lettering and calligraphy skills, ensuring beautifully addressed envelopes and invitations.
Still stuck on what to do? Make an appointment to come in and speak with one of our wedding experts. They can help you translate your vision into a wedding suite that matches your dream day.
Hopefully, you've gotten some great inspiration for your wedding invitations! We look forward to helping you on your journey to create your ever after.
Share: