'Tis the time for gift buying and gift wrapping, and who better to give you the ultimate present wrapping tips than Paper Source?! We have everything you need to make a stunning package, from the wrap, to the tape, to the ribbons and bows, to the gift tags and other fun toppers. Check out some creative ways to put together a beautiful gift for your loved ones this season.
The Essentials
Just as you need great ingredients to make a tasty recipe in your kitchen, you need great ingredients to create beautiful packages.
Paper:
We have unique, colorful, fun new holiday wrap designs – favorites include the mittens, owls and plaid with foil accents!
Beyond the holiday designs, we have an amazing core wrap and fine paper assortment.
And don't forget our solid colors – they are a great way to wardrobe your holiday wrap and you can use the leftovers year round!
Ribbon and Twine:
Choose from our core assortment or fancy it up with our luxe holiday ribbons.
Tags:
Simple solids are a must have: they're versatile and easy to decorate. We also carry an assortment of printed, die-cut and foil stamped tags to coordinate with your wrap!
Lastly:
Don't forget all the tools to get the job done – tape, tissue and scissors – we've got you covered!
Making Your Gifts Insta-Worthy
There are many ways to get the "wow" when you are wrapping gifts, but we want to make it easy by giving you a simple recipe. Start with the Essential Ingredients and add at least one of the following:
Shine
Dimension
Handmade touch
Jingle Bells can add a sophisticated touch to a present for an adult or add a playful twist on a gift for a child.
Wreaths can be dressed up many ways with ribbon and glitter, or can look elegant when presented simply.
Poms are super playful additions to a package. It's fun to add them to mitten tags or to create faces on a gift for kids!
A fun way to surprise and delight is to add gift toppers on top of a wrapped gift. This is one of the more fun ways to add dimension! We have lots of littles that can easily be added as a gift topper like ornaments or other festive stocking stuffers.
Of course, one of our favorite ways to add the wow factor to our gifts is with DIY tags! We have everything you need to create your own beautiful, handmade tags: punches, stickers, stamps, washi tape, pens, the list goes on. It's easy to coordinate with our wraps, and what's great about this handmade touch is how customizable they are.
Next Level Wrap Skills
When all else fails, a voluminous ribbon can turn any present from meh to WHOA.
Another fun way to add color, sparkle or shine is with a paper sash. You can also try pleat-folding tissue for a translucent, layered look. Check out these lovely examples!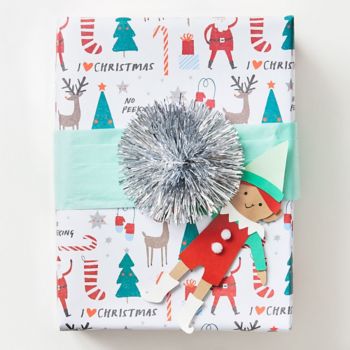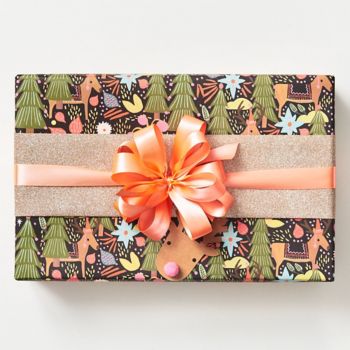 ---
Show us your wrapped presents this holiday season using #PaperSource for the chance to be featured on our Instagram page! Happy holidays!
Share: