At Paper Source, we love being organized almost as much as we love crafting, so when we heard about creative journaling, we were immediately on board! It can be intimidating, especially when you see how much detail goes into creating some of these journals, but not to worry, we're here to give some great tips and tricks to get you started.
Admittedly, we are not the pioneers of bullet journaling. The concept was created and took off back in 2014 by digital production designer, Ryder Carroll.
Though it has taken us three years to hop on the trend, we certainly can't be the only ones living under a rock. Therefore, for those of you still struggling to wrap your head around the mystifying concept of "bullet journaling," we have done our research and are here to share our findings.
What is a bullet journal?
The bullet journal (or BuJo as some people have coined it) is essentially a blank notebook that you organize and fill with lists and bullet points (hence the name).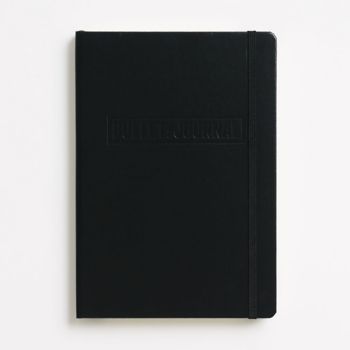 A plain journal is used to create a yearly, monthly, weekly, or daily planner. However, what makes the journal unique from store bought planners is that the blank pages allow you to organize your planner to your liking, and also provide a canvas for you to add to-do lists, lifestyle planners, doodles, inspirational quotes, and much more!
Why should I have one?
If you're like us, you're probably juggling multiple notebooks at once. Rather than tote around three separate books for your planner, diary, and sketchbook, why not combine them into one organized entity? Bullet journals allow you to keep everything all in one place, minimizing chaos from your life while also being a fun and creative outlet.
If nothing else, a bullet journal is necessary because it is the perfect excuse to go crazy purchasing a plethora of beautiful notebooks, pens, markers, washi tapes, and stickers.
How do I start?
Pick a journal. Ruled, grid, or blank pages – whatever your preference, get yourself a journal to get started. Paper Source offers personalized journals in a variety of styles and sizes on our site, along with a wide selection of ready-to-go notebooks online and in stores!
Grab some pens, markers, stickers, and washi tape to decorate and beautify your journal.
How should I organize it?
Start with an index. This will be used to indicate what page each section is on, making your journal easy to navigate.
Make a future log. There are multiple ways to do this. One way is to divide an open page into six portions and label each portion for the next six months. Remember to number the pages and put them in your index.
Make a monthly log. Carroll suggests using the left page of the journal to write a list of each day of the month, and the right page to be used as a monthly task list (what you want to accomplish within the month). Number these pages and add them to your index.
Make a weekly/daily log. Each open journal page can include one week's worth of days, much like a weekly planner. Divide the page into seven sections and label each section with the day and date. Keep the weekly planner going as each week approaches, and add the pages to your index.
At the end of a month, make a new monthly log and record the pages in your index.
Scan through the tasks from the daily logs of the previous month and: x out tasks you have completed, cross off tasks that were not done but are no longer necessary, add a right arrow to tasks that you need to carry over to the next month, and add a left arrow to tasks that take a longer amount of time and can be added to your future log.
Include other pages wherever you find necessary. One example is a "collections" page that includes related notes or tasks like shopping lists and quick memos. You can also add habit trackers for each month. For this, list the days of the month across the page, and then make a vertical list of habits you want to keep accountable for (ex: working out, eating healthy, reading every day), and place an "x" whenever you do that habit each day. Other ideas include mood trackers, expense trackers, New Year's resolutions, and lists of books to read or films to watch.
Need some help?
No pressure! We have plenty of beautiful planners and books that provide you with an easy to use template to start your organizing, but can still be customized and doodled in for some fun customization. Check out the Productivity Planner, and our new collection of planners here! Check with your local store later this month for more information on an exciting workshop to help you get started on your creative journaling journey!
Share: