Paper Source Creativity Subscription
Register now and you'll get the Paper Source Creativity Subscription with craft tools & supplies curated for the month's feature project. Learn different techniques through at-home on-demand video instruction, like taking a Paper Source workshop on your own schedule.
Perfect for any level of expertise.
Only $75 per box delivered 6x a year.
Order for yourself or gift to a loved one.
Next Box Shipping is Our Snail Mail Special!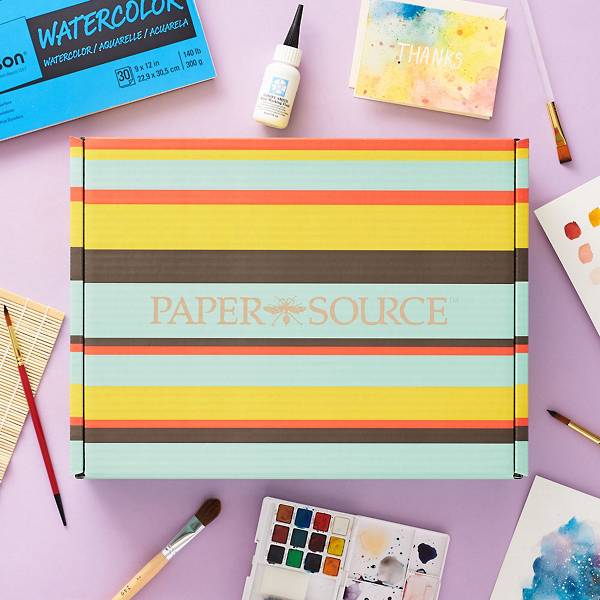 Learn how to create stunning stationery at home with our October Creativity Subscription box. This month, we will show you multiple ways to use these tools so you can create a variety of personalized designs to deliver happiness to your friends & family.
Included in your box:
- Heat Embossing Tool
- Floral Stamp
- Versamark Ink Pad
- Set of 3 Embossing Pens
- Gold Embossing Powder
- White A2 Folded Note Cards
- 3 Colors of A2 Envelopes
- A FREE Interactive Virtual Workshop (Valued at $25-35)
Frequently Asked Questions
Do I need to create an account?
Yes
How often will I receive a subscription box?
6x a year (every other month)
What do I do if my box is damaged during shipment or I am missing an item?
If your box does not arrive or is damaged, please notify us via email at customerservice@papersource.com within four weeks of receiving your tracking information.
Can I buy just one box?
No
When will my box ship?
Boxes ship October, December, February, April, June and August.
How much does shipping cost?
Free, included in the price of $75 (currently offered only within the contiguous United States).
How do I update my shipping information?
Please contact us at customerservice@papersource.com if you need to update your shipping address. Please do so before the 7th of the month prior to receiving your next box.
Can I give as a gift?
Yes! Just supply the recipient's name and address when filling out the shipping information and your own information for billing. No price information is included in the shipment.
When will I be billed?
Upon signing up, your credit card will be authorized for $450 once to confirm for the total annual subscription price. You will then be charged $75 every other month (as a nonrefundable purchase) when your box ships.
Do you accept returns?
No
What is the cancellation policy?
Subscriptions are considered annual and automatically renew. If you'd like to cancel your Subscription after receiving your sixth box, you must do so before the 7th of the month prior to receiving your next box; otherwise you will be billed for the next box. There are no cancellation fees. We do not place "holds" or "skips" on subscriptions. In order to cancel your subscription, you must contact us at customerservice@papersource.com and request the cancellation.
Interested in partnering?
Contact press@papersource.com.
Find More DIY Inspiration & Supplies